Login
Log in if you have an account
Register
Having an account with us will allow you to check out faster in the future, store multiple addresses, view and track your orders in your account, and more.
Create an account
✨ J. Cotter Gallery X Misfit Diamonds ✨ Pop-Up 7/14/23
07 Jul 2023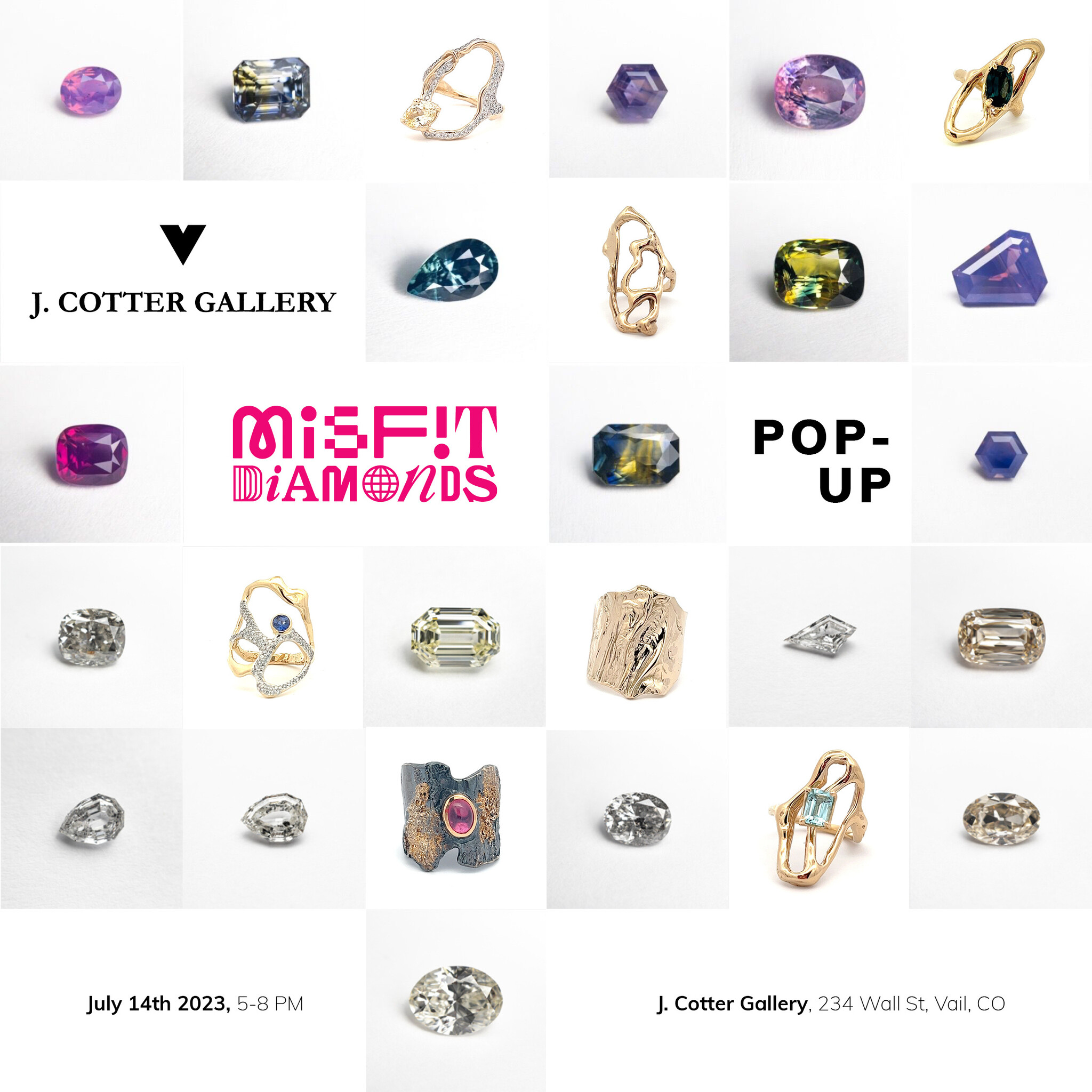 Together with Misfit Diamonds
A Pop-Up of Diamonds, Sapphires and Contemporary Jewelry

When: July 14th 2023, 5-8 PM
Where: J. Cotter Gallery, 234 Wall St, Vail, CO, 81657

Join us for an exclusive pop up Experience featuring
the work of Jim Cotter & Misfit Diamonds.


The world of diamonds and gems can often be confusing and difficult to navigate. Misfit Diamonds is here to help! Join us in learning from Misfits very own Megan McGaffigan who will be here in person to share her gemmological knowledge.  This educational and informative experience will be full of eye candy and excitement.  Come learn from the experts if you are just curious, thinking about investing in a diamond or simply interested in creating a custom piece of J. Cotter jewelry with a Misfit diamond or Sapphire.    
Much like their weird and wonderful selection of diamonds, their sapphires will have you doing a double-take.
 
Jim Cotter is Vails local jeweler for 50 plus years and knows a thing or two about wearable art. Drawn from nature, contemporary conceptualism & connection, Cotter uses his unrelenting relationship with wax to create fluidity & texture.  Once sculpted each piece is hand cast in his Minturn studio.  Cotter's work is playful, powerful & one of a kind; his work has been described as "edgy glamour meets rock n' roll" with a promise to make you feel just like that.  This pop up will feature his most sought after pollock collection as well as loose stones and waxes for you to use your imagination.
Diamonds with Origin

Misfit Diamonds: The majority of diamonds in the supply chain today do not come with documented origin. The Kimberley Process Certification Scheme (KPCS, established in 2003) was put into place to stem the flow of conflict diamonds into the supply chain, however, the KPCS still leaves many key questions (origin, labor practices, environmental standards) unanswered.

At Misfit we believe establishing documented origin is one of the first steps to creating transparency in the diamond industry. From there we can begin to explore the working conditions, labor practices, and environmental factors involved in the extraction of these precious stones from the earth.

Over the past two years since Misfit was founded we have been working on bringing products with documented origin to market. In 2021 we launched our collections of Canadian, Australian, and African origin diamonds. By sharing our processes with the industry and our followers we hope we can educate and inspire other businesses to follow suit. The more of us requesting origin documentation from our vendors, the more we can amplify the demand for this within our industry. 
 
Join us Friday July 14th from 5-8pm at J. Cotter Gallery (234 Wall St, Vail, Colorado) to celebrate the importance of Education and Creativity. This is An exclusive pop up Experience featuring the work of Jim Cotter, Misfit's Megan McGaffgan and loose gemstones from Misfit Diamonds and Sapphires.

We can't wait to see you there (:

Please RVSP at the link below or reply to this email.