Login
Log in if you have an account
Register
Having an account with us will allow you to check out faster in the future, store multiple addresses, view and track your orders in your account, and more.
Create an account
A Pop-Up of Diamonds, Sapphires and Contemporary Jewelry
14 Aug 2023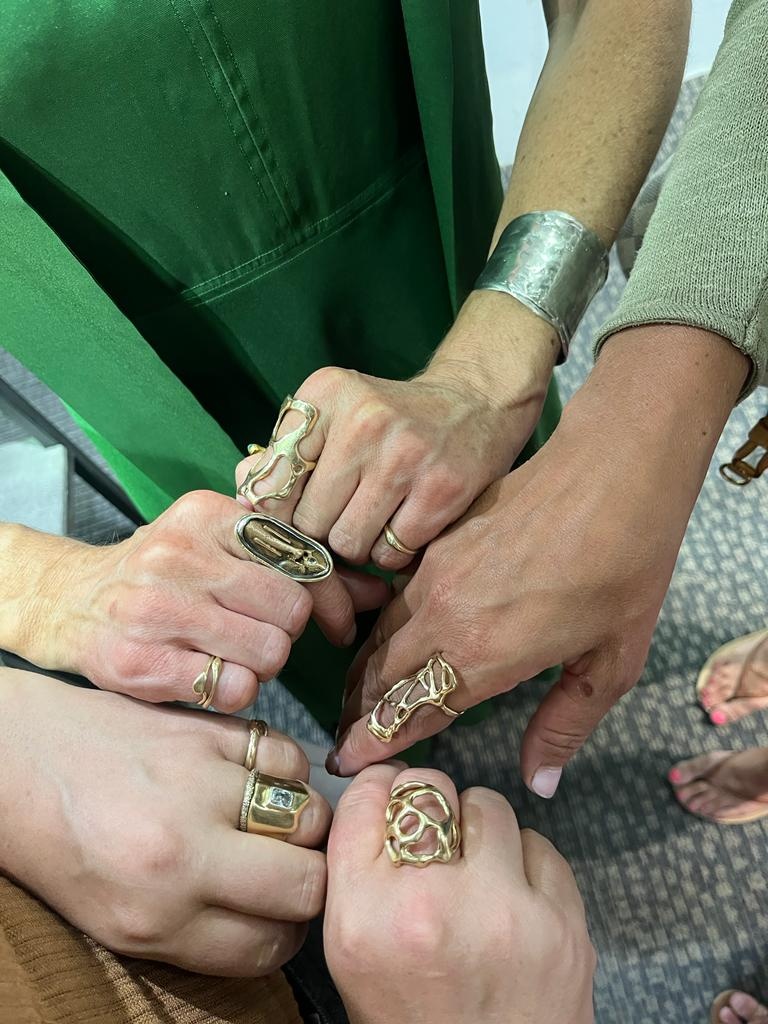 Written for Art Weekly by Wren Bova
@Vail Daily Magazines
A Pop-Up of Diamonds, Sapphires and Contemporary Jewelry
Gems have their own magic, a siren call for people around the globe. Whether it's sapphires or emeralds, rubies or diamonds, their sparkle and allure out of all proportion to their tiny size. Friday, July 14, J. Cotter Gallery is hosting a pop-up to celebrate sapphires, diamonds, contemporary jewelry and artistry. Jim Cotter of J. Cotter Gallery and Megan McGaffigan of Misfit Diamonds will be on hand for the casual event — with the requisite eye candy, bubbles and snacks.
Misfit Diamonds has become known as one of the forefront wholesale vendors of Montana sapphires. Their stones come from the Rock Creek and Missouri River deposits in Southwestern Montana. Having documented origin for its gems is a point of pride and importance for the company, as they work toward creating transparency — and thus explore labor practices and environmental factors —  in the gemological industry.
"We welcome anyone to this event, especially if they are thinking about investing in a diamond or sapphire, are interested in making a custom piece of jewelry or are simply just curious," says Cotter.
It's a timely topic.
"Sapphires have become tremendously popular in the last few years in the alternative bridal and designer jewelry realms," says McGaffigan. "They offer exciting colors and a range of price points, so the appeal is all encompassing for a diverse end wearer. People love these sapphires for their distinct colorations of blue, green and more rare: pinks — and the fact that they are mined in the U.S.A."
Diamonds, too, come in an array of colors and looks, from "salt and pepper" to champagne tones. Misfit offers diamonds with documented origin, as well as vintage stones that were mined over a century ago.
"On top of hoping that this is an educational experience, we hope our guests and clients fall in love with a stone with the purpose of wanting to create a custom piece with Jim in the studio," says Ramsey Cotter. "We have been doing a ton of custom rings with sapphires and this felt like the best way to allow people to see for themselves what the possibilities are and hopefully strike some creative inspiration."
Both Cotter and McGaffigan agree that the relationship between jeweler and gemologist is of tantamount importance.
"We rely on each other not only for unique colors, cuts and creative collaboration and understanding," Cotter says, "but most importantly we must trust our gem source and know that they are providing us and our clients with the highest quality and ethical sourcing."
"As a wholesale supplier of diamonds and sapphires, I have very personal relationships with many of my clients," adds McGaffigan. "Jewelry is worn on the body more consistently and closer than apparel, one could argue. It is an intimate object often with deeply vested meaning for the designer and the end customer or collector. There is so much invested into time, emotion and finances in designing, making, and then selling jewelry for my wholesale clients. To understand their processes, needs and inspirations is key to a symbiotic and fruitful relationship for us all. I love the gem hunt and seeking to find what our wholesale customers desire."
The casual event promises to spread awareness as well as educate people about what's out there in terms of color and cut.
"We want people to think outside the box when it comes to what they thought they knew was a 'diamond' or 'sapphire,'" says Cotter.  "And of course we want to also offer our guests an opportunity to experience working directly with the artist and stone dealer to create a truly unique one of a kind piece of jewelry."